Health and Lifestyle Expos
Who benefits from a Health & Lifestyle Expo?
When planning a Health & Lifestyle Expo, everyone's interests are taken to heart… And when that happens, everyone benefits: Brokers, Employers, Employees and Exhibitors alike! Our motto is, "We do the work to make you look good."
Who will I see at an Expo?
Glad you asked. You can always count on seeing a wide variety of different interactive & educational exhibitors.
Each event varies based on our Hosts wish list as well as their needs and desires. Hence, custom-tailored events each and every time…
Each exhibitor is there because they choose to be, thus creating an atmosphere high in energy as well as enthusiasm…
Farmers Market Displays
A farmers market display is a beautiful centerpiece for your expo. Employees can enjoy fruits and veggies as a snack or take them home to add to a healthy dinner.
Infused Water Hydration Station
The hydration station features water infused with fruits and offers your employees a healthy option to stay hydrated.
Energy Bite Demo
A quick lesson on how to make a no-cook healthy snack that's great for road trips with the family, bike rides and more. Attendees can taste a sample and take a recipe home to make them on their own.
Plant-a-Seed Sustainability Booth
Become inspired to grow your own fruits and veggies when you plant a seed and take home your own little piece of the environment! We educate attendees on how to garden successfully at home.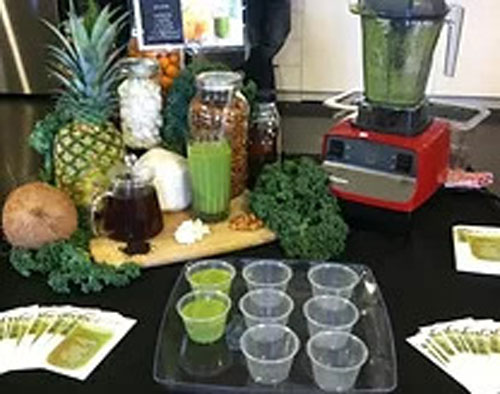 Green Smoothie Demo
Come enjoy small-batch smoothies made right in front of you. Kale and greens go into the blender with other fresh ingredients and are transformed into a delicious smoothie. Employees will enjoy samples and take-home recipes.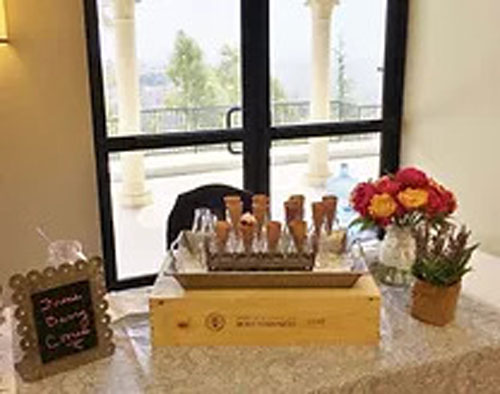 Fresh Berry Cones
We prepare and serve your employees fresh fruit cones with a dab of whipped cream, giving them an idea for a healthy dessert that their friends and family will rave about.
Healthy Food Sampling or Catered Lunch
We'll gladly coordinate a healthy food sampling or catered lunch for your employees to enjoy during the event. We can work from 'go-to' staples or any ideas or suggestions that you might have.